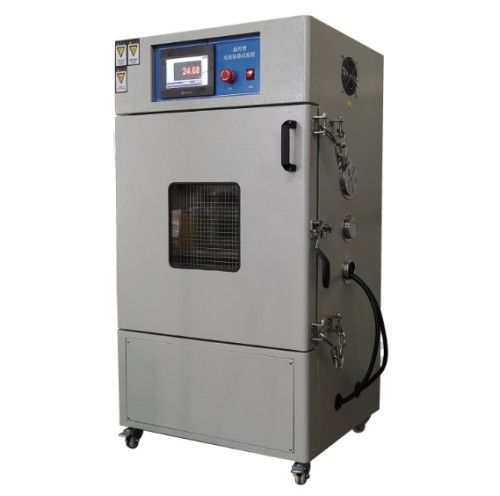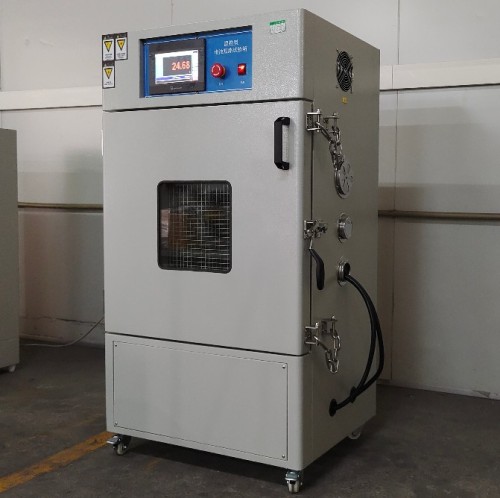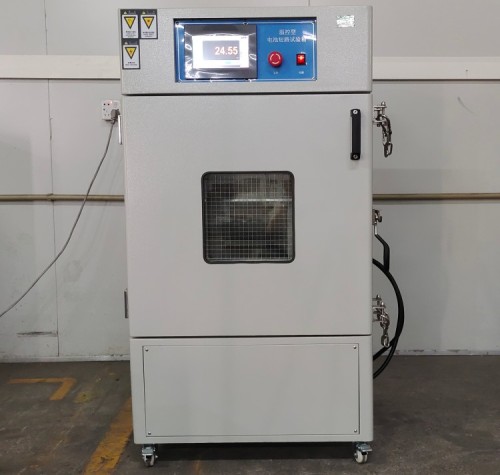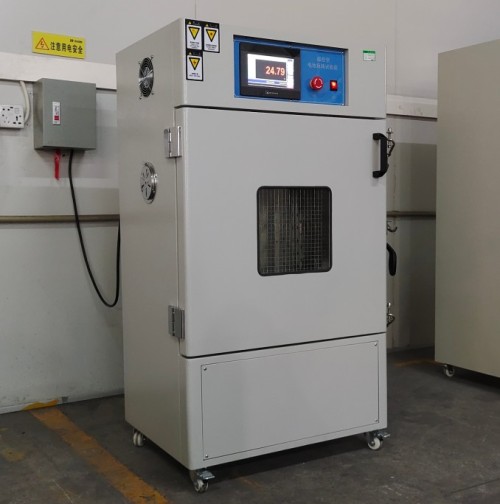 Battery Short Circuit Test Chamber丨UN38.3 IEC62133 UL 1642
Item specifics
Inner dimensions

400x400x400mm
Outside dimensions

800x700x1310mm
Temperature range

RT+10~200℃
Temperature display accuracy

0.1℃
Temperature stability

±1.0℃
Temperature uniformity

±2℃
Description
Battery short circuit test chamber is used to test whether the battery will explode and catch fire when a certain resistance is short-circuited under high temperature, and at the same time display the maximum short-circuit current through the relevant instrument.
Place the fully charged battery in an environment of 55°C±5°C. After the surface temperature of the battery reaches 55°C±5°C, leave it for 30 minutes, then connect the positive and negative terminals of the battery with wires, and ensure that all external resistances are at 80°C. ±20mΩ, monitor the battery surface temperature change during the test. When one of the following two situations occurs, the test is terminated:
(1) The battery surface temperature drops 20% lower than the peak value;
(2) The short circuit time reaches 24 hours;
The battery should not fire or explode, and the maximum temperature should not exceed 150°C.
GB/T 31485-2015 "Safety requirements and test methods for power batteries for electric vehicles"
GB/T 31241-2014   "Safety requirements for lithium-ion batteries and battery packs for portable electronic products"
UN38.3 "United Nations Manual of Tests and Standards for Transport of Dangerous Goods"
IEC62133 "Battery (group) composed of batteries and safety requirements for portable equipment"
UL 1642:2012 "Lithium Battery Standard"
| | |
| --- | --- |
| 1. Inner dimensions | 400x400x400mm (width x depth x height); |
| 2. Outside dimensions | 800x700x1310mm (width x depth x height); |
| 3. Temperature range | RT+10~200℃; |
| 4. Temperature display accuracy | 0.1℃; |
| 5. Temperature stability | ±1.0℃; |
| 6. Temperature uniformity | ±2℃; |
| 7. Heating time | (5±1)℃/min; |
| 8. Internal material | SUS304 stainless steel plate, thickness 1.2mm; |
| 9. External material | 1.5mm thick cold-rolled steel plate with paint treatment; |
| 10. Box door | a single door opens to the left, and an explosion-proof chain is installed on the side of the box door; |
| Smoke exhaust pipe | diameter φ100mm, located at the back of the box |
| 12. Control method | |
| 13. Temperature collection range | RT+10 ~ 1000℃; |
| 14. Temperature acquisition channel | 1 channel; |
| 15. Voltage acquisition range | 0-100V; |
| 16. Voltage acquisition channel | 1 channel; |
| 17. Maximum short-circuit current | 1000A; |
| 18. Current acquisition channel | 1 channel; |
| 19. The internal resistance of the device loop | 80±20mΩ; |
| 20. Pressure relief door size | 200x200mm; |