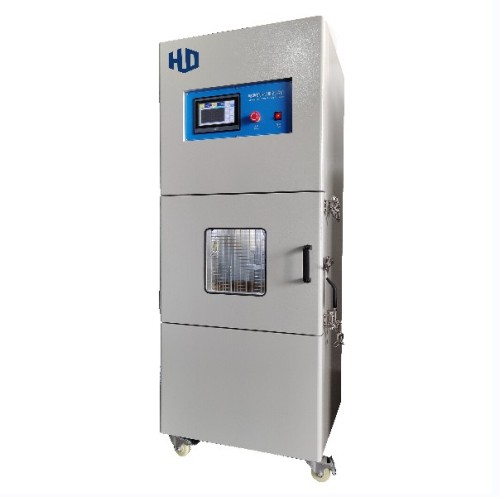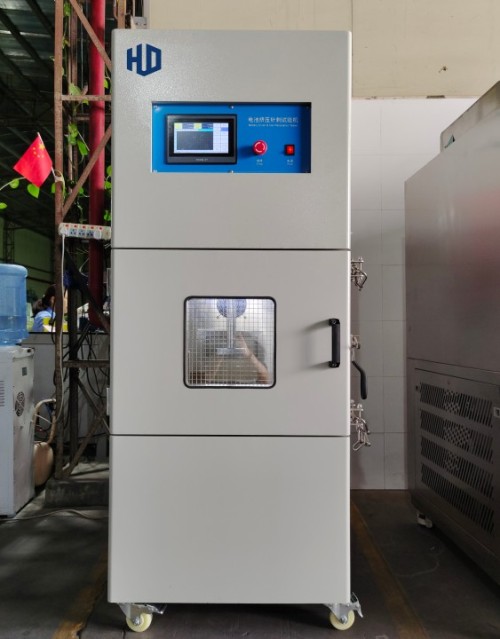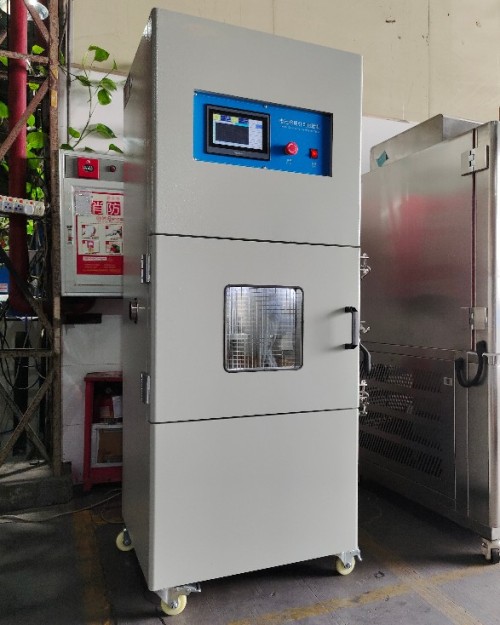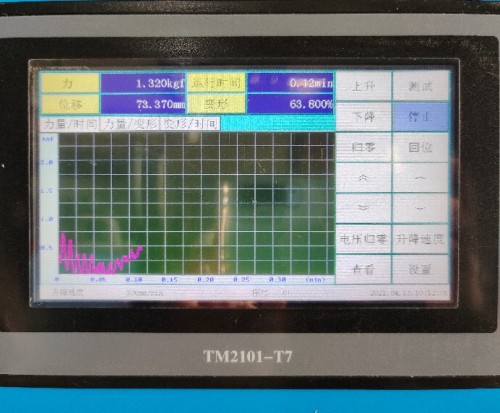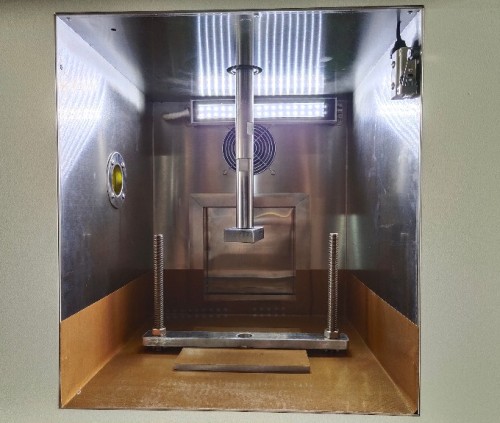 Battery Crush Nail Penetration Test Machine
Item specifics
Inner dimensions

520x450x560mm
Outside dimensions

800x700x1720mm
Drive mode

Servo motor drive
Force range

1~20kN
Extrusion stroke

250mm
Material of inner chamber

SUS#304, thickness 1.2mm
Description
Battery Crush Nail Penetration Test Machine is suitable for simulating the squeezing and acupuncture of various batteries during use, transportation, storage or disposal of household waste. The test should be at an ambient temperature of 20℃±5℃ To proceed, place the battery connected to the thermocouple (the contact of the thermocouple is fixed on the large surface of the battery) in a fume hood, and pierce the largest surface of the battery with a non-corrosive steel needle with a diameter of 2-8mm at a speed of 25mm/s Keep it at the center of the battery for any time and observe the test results. The battery is qualified if it does not explode or does not catch fire.
GB/T 31485-2015 "Safety requirements and test methods for power batteries for electric vehicles"
GB/T 31241-2014   "Safety requirements for lithium-ion batteries and battery packs for portable electronic products"
UN 38.3 "United Nations Manual of Transport Tests and Standards for Dangerous Goods"
IEC62133 "Battery (group) composed of batteries and safety requirements for portable equipment"
UL 1642:2012 "Lithium Battery Standard"
| | |
| --- | --- |
| 1. Drive mode | Servo motor drive; |
| 2. Control method | PLC touch screen control; |
| 3. Force range | 1~20kN; |
| 4. Extrusion stroke | 250mm; |
| 5. Force value display | touch screen display; |
| 6. Extrusion head | Extrusion head area ≥20cm²; |
| 7. Extrusion degree | Extrusion pressure reaches 13±0.2kN, keep for 1min; |
| 8. Test space | 200x200x200mm (width x depth x height) |
| 9. External material | A3 steel plate and painted, thickness 1.5mm; |
| 10. Material of inner box | SUS#304, thickness 1.2mm; |
| 11. Steel needle | φ2mm~φ8mm high temperature resistant steel needle, the length is 100mm (can be specified); |
| 12. Inner dimensions | 520x450x560mm (width x depth x height); |
| 13. Outside dimensions | 800x700x1720mm (width x depth x height, including door lock); |
| 14. Pressure relief door size | 200x200mm; |
| 15. Smoke exhaust pipe | diameter φ100mm, located at the back of the box; |