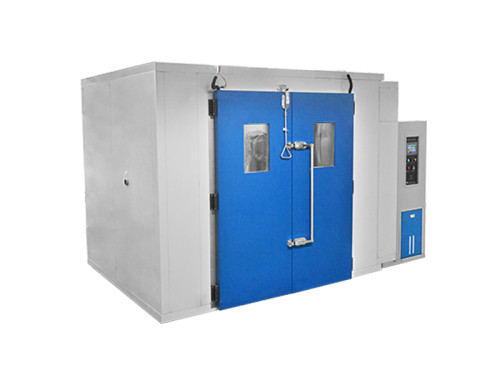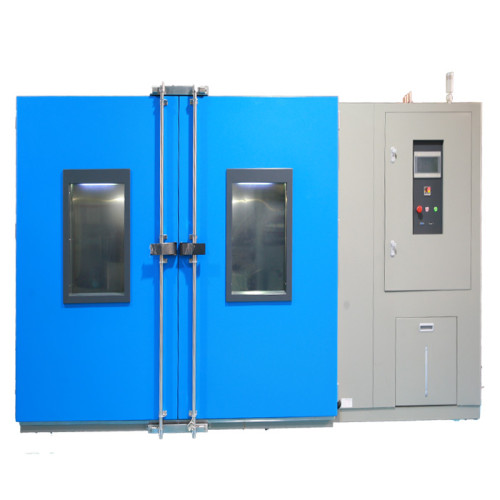 Stability Walk In Temperature Humidity Rooms
Item specifics
Product Name

Walk In Test Chamber
interior walls

stainless steel 304
exterior walls

cold rolled stell plate with baking finish
humidity range

40% to 98% RH
Description
It include full vehicle testing, automotive components, electronic components, packaging, stability testing, biological research and more. Chambers may be designed with options such as remote instrument consoles, custom-size doors, ramps and heavy-duty floors.
Model

HUD-E705-8

Temperature Range

-50c To +100c

Humidity Range

40% To 98% Rh

Dimension (Internal) (w x d x h)

1500 x 1500 x 3000 mm

Dimension (External) (w x d x h)

2850 x 1700 x 3200 mm

Ramp

Variable, Temp. 0~5c / Min & Humidity 0~5%/Min
In Average, No Load

Accuracy

Temp. ±1c, Humidity ±2.5%Rh

Interior Walls

Stainless Steel 304

Exterior Walls

Cold Rolled Stell Plate With Baking Finish

Temperature & Humidity Measurement And Controller

32 Bit Control And Monitoring System.
Interface Facility With Rs232
Programmable Temp. Humid. Controller

Viewing Window

Multi Pane Glass Window Size

Port Holes

50 Mm Diameter For Wire Routing

Power Supply Requirement

Three Phase, Ac380 v ± 10 %, 50 Hz

Sound Pressure Level

Sound Pressure Level

Condenser Cooling

Water Cooled
chamber with internal air circulation, and all the heaters and cooling coil located behind/below the false sheet of the chamber and outside the working space

Interior
the conditioning with air circulation to maintain uniform temperature interior have provision for arranging stainless steel
Insulation
insulation is asbestos-free, with low thermal conductivity foam
Cooling system
cascade type, refrigeration system with hermetically sealed refrigeration
cycles with environment and ozone friendly and chloride free refrigeration
Door
lockable front opening, with double door latch easy to open with silicon gasket for perfect sealing
Viewing window
viewing interlock is sealed to avoid leakage and provided with heating provision to prevent condensation
Illumination
Internal light on viewing windows with external control
Temperature measuring and control system
the temperature measuring and control system adopts microprocessor system and provided with touch panel for monitoring and digital display.
Supplied with support software
software is capable to visualize and graphical analyse the measured & recorded value.
- graphical representation and digital display and control of set and actual values
- digital input and display of temperature in degree centigrade
- fault diagnosis system
- 120 storage of programs
have adjustable safety cut-out against high and low temperature
facility to programme temperature measuring using sensor pt100
Recorder & pc connectivity
standard rs -232 interface for pc connectivity
rs-232 cable for pc connectivity along with pc connectivity software
Port holes
each port hole provided with silicon sealing bunker (plug)
Electrical panel
all power connectors, protection devices power control logic built in the control panel integrated to the chamber
all electrical cables tagged with id number
all electrical function circuit equipped with its own safety device that shuts down the relevant circuit or the entire test chamber if a faulty develops
all electrical systems comply with recognized technical regulation as well as with the accident prevention regulations.
Standard protection
protective feature to be provided as follows:
over load trip & earth leakage trip for complete chamber
over load trip for compressors, heaters and motors
over temperature cut-off for compressors
heater be cut off, if air circulation blowers are off
Operating system
detailed operating & maintenance manual
operational instruction
complete list parts
preventive maintenance procedure
trouble shooting measures
electrical circuit diagrams
Testing Sample
sole panels, size 2m * 1m * 1m(h*w*d)