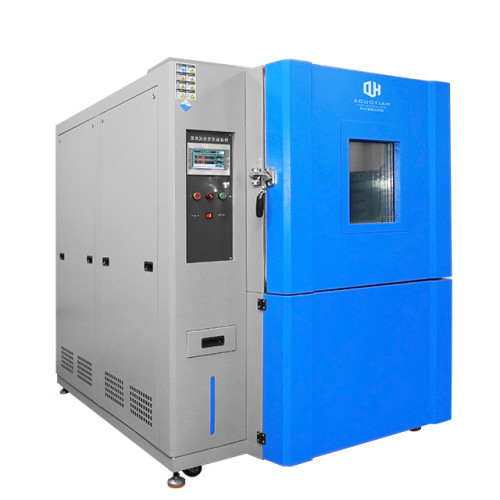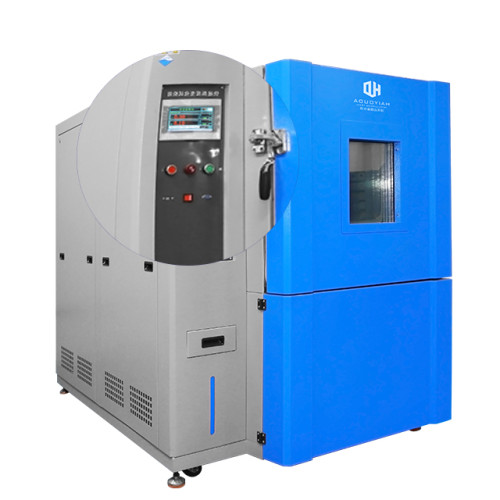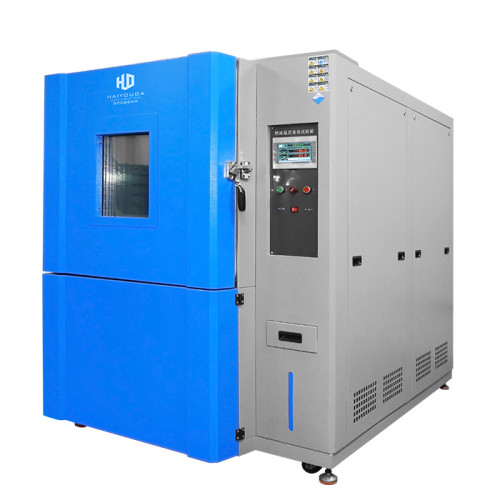 Rapid-Rate Thermal Cycle Chamber丨Rapid Temperature Change Test Chamber
Item specifics
Name

rapid-rate thermal cycle chamber
Internal dimension (W*D*H)

400*500*500mm
External dimension (W*D*H)

600*1080*1380mm
Temperature range

-40~+150℃
Temperature rise and fall rate

5-15℃/min in average
Temperature uniformity

2℃
Description
It is suitable for the necessary test and assessment in the fields of aviation, automobiles, home appliances, scientific research and other fields, and to determine the adaptability of the parameters and performance of electrical, electronic, automotive electrical appliances, materials and other products after high and low temperature tests are carried out after the temperature environment impact changes.
1 The internal and external materials are made of stainless steel, and polyurethane foam is used for heat preservation.
2 The anti-condensation electric heating film hollow tempered glass ensures safety and can observe the test dynamics at any time.
3 Conversational operation with 5.7-inch LCD touch screen, simple and convenient.
4 Using scaly heat-dissipating heating pipes, PID control has always reached a stable temperature.
5 Using a two-dimensional compound refrigeration system through an evaporative condenser to increase the cooling rate.
6 Adopting air-cooled flaky condenser and circulating fan to dissipate heat.
7 Power-off memory function, the maximum power-off memory time is 3 years
8 Super safety protection function: power overload protection, leakage protection, over temperature protection, alarm sound prompt, etc.
| | | | |
| --- | --- | --- | --- |
| | Model | HUD-E702 | |
| | Internal dimension (W*D*H) | 400*500*500mm | |
| | External dimension (W*D*H) | 600*1080*1380mm | |
| | Temperature range | -40~+150℃ | |
| | Temperature fluctuation | ±0.5℃ | |
| | Temperature uniformity | 2℃ | |
| | Humidity range | 20~98%RH (Refer Image below) | |
| | Humidity fluctuation | ±2.5%RH | |
| | Humidity uniformity | 3%RH | |
| | Temperature rise and fall rate | 5-15℃/min in average (without loading) | |
| | Internal chamber material | SUS#304 stainless steel, mirror finished | |
| | External chamber material | Stainless steel | |
| | Cooling method | Air cooling | |
| | Controller | LCD touch screen, programmable control temperature and humidityCan set different parameter for cyclic test | |
| | Insulation material | 50mm high density rigid Polyurethane foam | |
| | Heater | Explosion-proof type SUS#304 stainless steel fins radiator pipe heater | |
| | Compressor | France Tecumseh compressor | |
| | Lighting | Heat resistance | |
| | Temperature sensor | PT-100 dry and wet bulb sensor | |
| | Observation window | Tempered glass | |
| | Testing hole | Diameter 50mm, for cable routing | |
| | Sample tray | SUS#304 stainless steel, 2pcs | |
| | Safety protection device | Protection for leakageOver-temperatureCompressor overvoltage and overloadHeater short circuitWater shortage | |