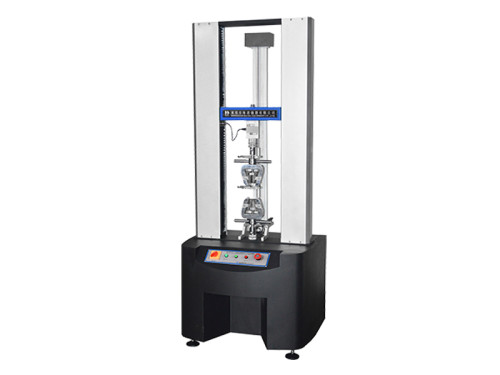 Universal Test Machine (Max. Force 5T)
Item specifics
Name

Universal Test Machine (Max. Force 5T )
Max. Force

5T (50KN)
Load cell Resolution

1/250,000
Load Precision

≤0.5%
Dimension (L×W×H)

985*510*2100mm
Weight

320KG Approx
Description
It is suitable for plastic films, composite materials, soft packaging materials, plastic hoses, adhesives, adhesive tapes, stickers, medical patches, medical devices, release paper, protective films, composite covers, metal foils, diaphragms, backing Performance testing of sheet materials, non-woven fabrics, rubber, paper and other products. And it can test stretching, peeling, deformation, tearing, bonding, piercing force, opening force, low-speed unwinding force, unwinding force, etc.
Ten programs to meet diverse needs
1. The instrument integrates ten professional and independent test procedures such as stretching, peeling, tearing, heat sealing, fixed extension tensile, down pressure, puncture retention, etc., providing users with a variety of test items;
2. Support compression tests such as rubber stopper puncture and ampoule breaking force, and the test speed can be set freely;
3. Intelligent design such as limit protection, overload protection, and automatic return to ensure safe operation.
Excellent testing organization, comprehensive upgrade of accuracy
1. Double-column ball nut screw drive to ensure high-precision and stable operation;
2. Equipped with a force value test system of a world-renowned brand, providing force value accuracy better than 0.5, with better repeatability and more flexible testing;
3. Equipped with a world-renowned brand of servo operation system, combined with precision ball screw multi-axis positioning technology, it provides displacement accuracy better than 0.5 grade, stepless speed regulation, convenient use, and more stable operation.
High-end embedded computer system platform, safe and easy to use
1. Support comparison and analysis of test data group, with multi-unit conversion function;
2. The system has built-in USB interface and network port, which is convenient for external access and data transmission of the system.
STANDARD FEATURES FEATURES
Models

HUD-B615-S

Max. Force

5T (50KN)

Load cell

Germany brand load cell for high accuracy

Control system

PC with windows 7 system or windows 10 system

Motor

Panasonic servo motor w/AC variable speed drive system, high-precision mechanical ball screw rod

Force reading

kgf, Ibf, N, KN, T etc

Stoke

1100mm including fixture

Load cell Resolution

1/250,000

Load Precision

≤0.5%

Test speed

0.01~300mm/min (adjustable)

Test width

≤420mm

Dimension (L×W×H)

985*510*2100mm

Weight

320KG Approx

Software

TM 2101

Curves display

Load- elongation, Elongation-time, Time-elongation, Stress-strain

Data display

Max. force, speed, sample information, strength(Kpa, Mpa, N/mm, N/mm2) etc…

Safety features

1.E-Stop

2.Over-load protection

3.Upper and lower limit switches

4. Load sensor with automatic retreat