The Grade Of Waterproof and Dustproof
Share
publisher

Lisa Zhong
Issue Time

2011/06/30
Summary
1 dust testing machine / dust (dust) test box is mainly used for the shell protection level standards in the IP5X and IP6X two levels of testing.
2 Suitable for sealing performance test and reliability test of the product, check the sealing performance of the electronic and electrical products, automobile, motorcycle parts, seals, etc.
The P-Class system provides a method for sorting products by means of dust, water and anti-collision in electrical equipment and packaging. This system is approved by most European countries and is packaged in IEC529 (BSEN 60529: 1992) Protection level (IP code) announced.
0 No protection No protection
1 can withstand more than 50mm of solid matter.
2 can withstand the diameter of more than 12mm diameter, the length of not more than 80mm solid material.
3 can withstand the diameter of more than 2.5mm solid material.
4 can withstand solid matter with a diameter of more than 1.0mm.
5 dust, limited access (no harmful deposits). Can withstand low pressure water jet from any direction - allowing limited access.
6 dust is difficult to enter, completely dustproof. Can withstand strong water column jet from any direction - allowing limited access.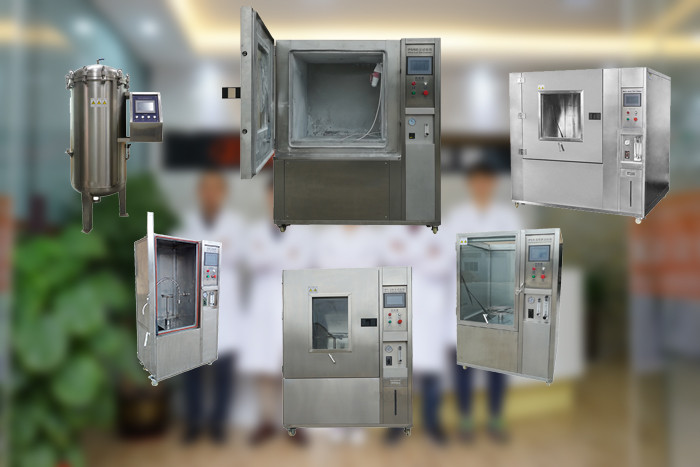 IP Test Chamber including:Dust Test Chamber,Water Drip Test Chamber,Water Spray Test Chamber,Rain Test Chamber,Water Immersion Test Chamber,High Temperature And Pressure Water Spray Test Chamber.
Contact:Lisa Zhong
Phone: +86-7698-1187866,+86-13829267288.
Email: manager@climatetester.com.
Website:http://www.climatetester.com/